About Us
Team Message
With more than 4 decades of cumulated experience within our team, BATC shares its most valuable asset, the know-how, on a daily basis: we aim at being proactive in terms of constantly updating our know-how through offering customized solutions in the building technologies.
It is through our perpetual trainings and seminars that our young and dynamic team members grasp this know-how and build up their technical knowledge.
Our success was based on the foundations of our corporate ethics: effective deployment of our people and their skills to deliver the right solution to every one of our specific customers: successful delivery relies on effectively integrating products from a wide range of manufacturers, all communicating on a common platform to achieve a complete interoperable solution.
Mission: Promoting KNX certified training to professional users such as consultants, designers, contractors and installers, through providing technical development support related to the KNX standard. Ensuring cooperation with the scientific world and gaining new partners from the industry.
Vision: Offering intelligent building control solutions to clients across a number of sectors.
Corporate Values
Customer Service Excellence: We are dedicated to satisfying our customers' needs, as well as honoring the commitments we have made to them.
Teamwork: Our team members are supportive of each other's efforts, loyal to one another, and care for each other, both personally and professionally.
Community and environment: We strive to help and improve the communities where we work and live: we care about the environment, and we promote the use of recyclable products and renewable energy.
Integrity: We act with honesty and integrity, not compromising the truth.
Passion for results: We show pride, enthusiasm and dedication in everything that we do: we are committed to selling, redesigning when required, delivering and maintaining high quality products and services.
Respect: We treat our customers, partners, suppliers and team members with mutual respect and sensitivity, all while recognizing the importance of diversity.
Innovation: We are creative in delivering new ideas and approaches in problem solving to our customers, and we anticipate change and do capitalize on the many opportunities that arise.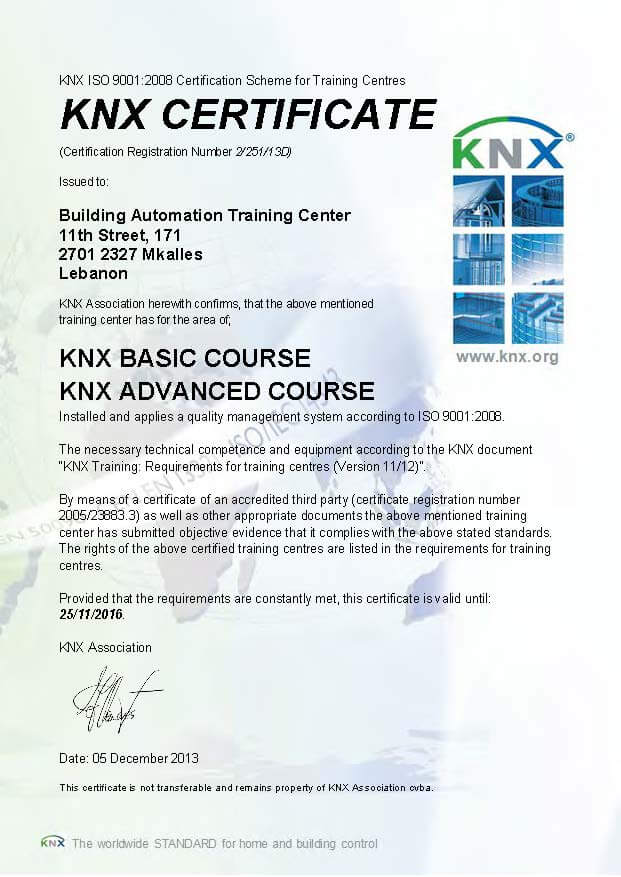 Iso Certification: Having accessed the KNX Courses & Certification we provided in 2012, the KNX Association did provide us with its "KNX ISO 9001:2008" Certification Scheme for Training Centers, under Certification Registration Number 2/251/13D, valid through November 25th, 2016.
Why Us?
-Our team includes engineers who are KNX trained, one of whom being certified through the Upgrade Course and the Tutor Course, and we are the first KNX Training Center in Lebanon.
-Having worked on numerous projects, we have gained unmatched business and technological expertise, and we have built a large database of knowledge that we apply to deliver solutions that meet customers' needs, expectations and budgets.
-The professionalism of our staff makes us stand out: we retain only the best professionals.
-We implement the best industry standards and practices: these standards and BATC's experience guarantee outstanding results and allow us to better serve clients with regards to cost, quality and timeframes.
-As an individual looking to improve your skills, you will gain knowledge with KNX certification through a balanced learning approach, empowering you to increase your workplace competence and gain a professional advantage.